Famous worldwide for its June meeting, 'Royal Ascot' is the most prestigious fixture in the UK Flat racing calendar. The meeting includes 8 Group 1 races, ranging in distance from the five-furlong King's Stand Stakes to the two and a half mile Gold Cup, which spearhead five days of top-class racing comprising prestigious pattern races and historic handicaps such as the Royal Hunt Cup and Wokingham Stakes. With a Flat calendar that is further-bolstered by the King George VI & Queen Elizabeth Stakes in late July and British Champions Day in mid-October, no other racecourse stages a comparable level in terms of quality racing.
Ascot's National Hunt course was inaugurated in 1966 and also stages several important meetings, notably the Ascot Hurdle fixture in November, the Christmas meeting featuring the Grade 1 Long Walk Hurdle, the two-mile Clarence House Chase (formerly the Victor Chandler) in January and the Ascot Chase fixture in February – the last two meetings featuring several 'trial' races for the upcoming Cheltenham Festival.
The round course is a right-handed, triangular circuit of fourteen furlongs, with a run-in of 2½ furlongs. There is a straight mile course and the Old mile course which joins the round course in Swinley Bottom. Despite the downhill run into Swinley Bottom and relatively short run-in from the final turn, Ascot is galloping in character. Since the redevelopment, the turn into the straight has become more sweeping and those ridden prominently can be difficult to peg back. Nowadays, the ground in the straight drains quicker than the rest of the course, meaning going descriptions can vary.
Because the run-in on Ascot's round course is relatively short, positioning - jockeyship in other words - is key. It goes without saying that in steadily-run races you want to be towards the sharp end but, whatever the pace, you can get into trouble trying to come through rivals late on. We're still learning about the straight course, following the relaying a few years back, but in my view it's more pace-dependent than draw-dependent. Given the right pace to chase, I reckon you can win from anywhere.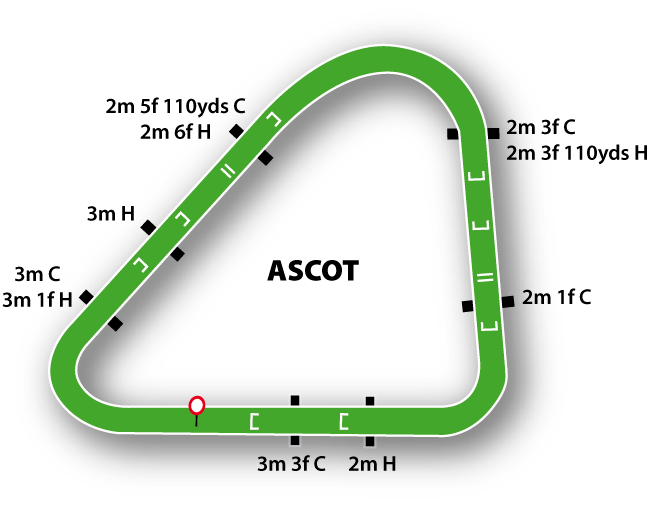 Right handed, galloping. NH course reopened in 2006/7 after major redevelopment work, and improved drainage means conditions rarely get so testing as they used to. Fences appear as stiff as they've ever been, the course taking plenty of jumping. The chase course often favours those ridden prominently.
The fences on the far side are quite tricky, particularly for a novice, but, if you're on a horse that can jump them and freewheel nicely on the downhill section, it can usually win for you. Handling those obstacles smoothly saves an awful lot of energy. It's a front-runners' track, too, especially in small fields of novices, but it's very difficult to win from the front in a big-field handicap. Saving ground when you can and making sure you meet the fences right are the two biggest factors to keep in mind when you're riding Ascot.
Today
Forecast: Sunny spells
Temp: -3.9° - 3.7°
Rainfall: 0.02mm
Wind: 6.6 mph W
Tomorrow
Forecast: Light snow
Temp: -3.2° - 1.9°
Rainfall: 1.57mm
Wind: 5.8 mph N
Last Update: 23/01/2021 17:00
Address & Contact
Ascot Racecourse Limited
Ascot
Berkshire
SL5 7JX
0844 346 3000
Get Directions
Enter starting postcode or just click Go to use your current location.